***Please do not print ticket****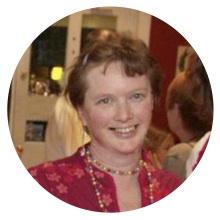 We are pleased to announce our April speaker is Karynne Ledger, Leader of Slow Food Sydney.
Karynne is an educator, chef, visual artist, and more recently Slow Food Sydney leader, who interweaves her skills from each discipline into the work with Slow Food Sydney.
Having parents who practiced and taught the importance of organic, home-grown and unprocessed food, influenced her future attitudes to food consumption and preparation.
In 2011, Karynne, completed her masters in Food culture and communication at the University of Gastronomic Sciences in Pollenzo, Italy. This university is part of Slow food and concentrates on all aspects of food studies. 
Karynne returned from Italy to rejoin Slow Food in Sydney and has currently taken on the leadership role. 
Slow food Sydney runs food events based on food education, bio diversity, and advocacy issues associated with the growing global food movement. 
Slow food is an international non-profit organization which counteracts fast food and the disappearance of local food traditions. Slow Food Sydney comprises today members from all walks of life, including home cooks, families, chefs, caterers, students, wine makers, farmers and scientists: anyone who is interested in supporting food traditions and local growers. We consider ourselves co-producers, not consumers, because – by being informed about the food we eat, where it comes from and how our choices affect the rest of the world – we become a part of the production process. 
Make sure you are there to join in the fun.
An open invitation is extended to all who are "passionate about sustainability" to come and mingle with like minded people and listen to a speaker share their sustainability story.
Scheduled from 6 pm – 8 pm, most of the evening is networking. There is a short presentation and guest speaker at ~7 pm.
When you register to attend, please share with your social networks and encourage other interested friends and colleagues to register and join us for a great evening. 
Our volunteers can have professional name tags ready for collection at the door. For courtesy, please contact us if you register and then cannot attend.