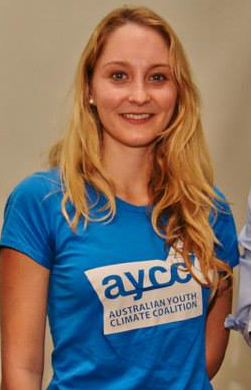 Sydney Sustainability Drinks is moving venue!
Come join us for the 10th September Sydney Sustainability Drinks at the Loft Bar, 15 Broadway Ultimo, next to UTS and just 4 minutes from Central Station. (The entrance is right next to Prevue Eyewear)
We are very pleased to announce Millie Anthony, The Australian Youth Climate Coalition (AYCC) NSW State Coordinator, will be speaking at our next Sustainability Drinks Sydney event held, as always, on the second Wednesday of the month: 6-8pm Wednesday 10th September.
Millie has been volunteering as NSW State Coordinator for the last 9 months. She came to the role from campaigning positions at UNICEF and advocacy roles for an organisation which advocates on behalf of Pacific Islanders, particularly in low-lying island states, who are being severely impacted by climate change. Millie believes in the power of young people as leaders to build a movement to solve climate change.
For details see: http://www.aycc.org.au/
SPECIAL GUEST AND GUEST SPEAKERS 
Jeremy Buckingham, NSW Greens MP – Jeremy was the first Green elected to Local Government and State Parliament in NSW west of Great Dividing Range and holds the key portfolio responsibilities of Mining, Agriculture, Regional Development, Rural Water, Sport, Youth and Western NSW. Jeremy has been a leader in the campaign to protect land, water and communities from the threat of coal seam gas. He has also been active in the campaign to phase out coal, protect agricultural land and promote renewable energy. http://jeremybuckingham.org
Nancy Moloney/Peter Clark, Climate Leaders, The Climate Reality Project Australia – The Climate Reality Project Australia, the Australian branch of Al Gore's climate change leadership program, is a non-profit organisation founded in November 2006 in partnership with the Australian Conservation Foundation. TCRP's mission is to educate the public about the various causes and effects of climate change and to work toward solutions at a grassroots level worldwide.http://www.climatereality.org.au/
Maggie Koussa, City Coordinator, 350.org Australia – 350.org works with dozens of organisations and thousands of individuals to effect ambitious climate action through national events, activities and campaigns. We also participate in global 350.org campaigns to raise awareness and bring about positive change. Current campaigns include Go Fossil Free, the Leard Blockade and the Galilee Coal campaign. http://350.org.au
Make sure you are there to join in the fun.
An open invitation is extended to all who are "passionate about sustainability" to come and mingle with like minded people and listen to a speaker share their sustainability story.
Scheduled from 6pm-9pm, most of the evening is networking. There is a short presentation from our main speaker at 7pm with guest speakers following.
When you register to attend, please share with your social networks and encourage other interested friends and colleagues to register and join us for a great evening.  Our volunteers can have professional name tags ready for collection at the door. For courtesy, please contact us if you register and then cannot attend.
No need to print tickets, simply register for free online 24 hours prior to the event to get your own personalised Sustainability Drinks name tag. Late arrivals can also register at the door.
For further information on our speakers and projects from Sydney Sustainability Drinks August, on Ethical Money and Divestment, see the links below:
Paul Smith, Head of Marketing, Australian Ethical Investment, Chair of the Jane Goodall Institute of Australia and Founding Member of Conscious Capitalism Australia:http://www.australianethical.com.au/
Julien Vincent, Lead Campaigner, Market Forces Fossil Fuel Divestment Day 18 October: http://www.marketforces.org.au/divestmentday
Michael Salvatico, ESG Research – Client Coverage, MSCI Inc. and Co-founder, Climakind:http://www.climakind.com/
Karl Schutte, Director, Renewable Capital
Matthew Moss, Foodbank Local/UNSW Entrepreneur program:http://www.nsinnovations.com.au/student-entrepreneur-development
Nicholas Gurieff, Fossil-Free UNSW: http://fossilfreeunsw.srcenviro.org