Professor David Hood AM is a civil and environmental engineer with vast experience across major civil and military projects, professional development in emerging economies, senior management in both the public and private sectors and in education.  David is deeply concerned that human activities and our current business paradigms, and personal lifestyles are seriously damaging our global home – the planet.  However, it need not lead to a Great Disruption – there is hope, but only if we realise what we are doing, and take immediate restorative action.
Following a successful career in project management David took over and commissioned Australia's then New Parliament House in the mid 1980s – a life changing career episode.  Since that project, David has become increasingly involved in fostering a culture of sustainability across all engineering disciplines, and the built environment.
David is an Adjunct Professor in the Science and Engineering Faculty at QUT where he inculcates sustainability across education and research.  He led the Sustainability Program of the CRC for Infrastructure and Engineering Asset Management (CIEAM) until 2013.  In 2006, he initiated, and was Founding Chairman until 2011 of the Australian Green Infrastructure Council (AGIC now ISCA), an industry association which developed the world's first full sustainability rating scheme for infrastructure.
David is an accredited Presenter with Al Gore's Climate Reality Project, and in August 2011, David was included in the ABC Carbon list of the top 100 Sustainability leaders in the world (and again in 2012, and 2013).
David was the 2012 National President of Engineers Australia (EA).  In 2012, David was included in the Engineers Media list of Australia's top 100 professional engineers.  In 2013 David was made an Honorary Fellow of EA.
On Australia Day 2013, David was made a Member of the Order of Australia in recognition of his enormous contribution to engineering through industry associations, and for lifting public awareness of sustainability.
Make sure you are there to join in the fun.
An open invitation is extended to all who are "passionate about sustainability" to come and mingle with like minded people and listen to a speaker share their sustainability story.
Scheduled from 5.30 pm – 8.30 pm, most of the evening is networking. There is a short presentation and guest speaker at ~6.30 pm.
When you register to attend, please share with your social networks and encourage other interested friends and colleagues to register and join us for a great evening.  Our volunteers can have professional name tags ready for collection at the door. For courtesy, please contact us if you register and then cannot attend.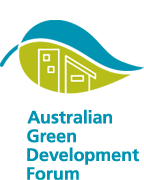 Brisbane Sustainability Drinks is presented in conjunction with Australian Green Development Forum.