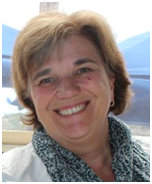 We are pleased to announce our Adelaide 17th September speaker is, Josie McLean, Managing Director, The Partnership. 
Blending research and practice, Josie McLean from The Partnership (www.the-partnership.com.au), is quickly gaining recognition as an authority in the cultivation of conditions for profound, paradigm shifting change. Researching, understanding, teaching, and guiding businesses and individuals towards a sustaining future state, this cultural change is both societal and organisational.
With a background in private sector financial analysis and corporate strategic planning, Josie has focussed her attention on the link between strategy and organisational change, commencing her own executive coaching business in 1999.  15 years of practice in cultivating the conditions for individual and team change, combined with her research into the nature and dynamic of change that forms a sustaining organisation – has created The Partnership's core expertise – the cultivation of profound change within organisations.
Studying Leadership, Development and Change at Harvard University, Josie also holds a Bachelor of Economics and Graduate Diploma in Management. Josie is currently completing doctoral research at the University of Adelaide, and has co-authored peer reviewed papers as part of interdisciplinary teams in NCCARF funded research with NRM boards designed to understand more about how to move from aspiration to implementation of change in adaption to climate change.
The International Coach Federation recognised Josie's contributions to the professional coaching industry in Australasia and her qualities as a coach when she received the global ICF President's Award in 2009 in the USA.
Speaker Topic: "Making the big shift: 5 elements in organisational change"
Summarising 10 years of research and practice, we will identify how individuals and organisations can make the "paradigm shift" to being sustainable. Being sustainable, as an individual or an organisation, is a matter of living from the experience of interconnectedness. This is a profound change, a "paradigm shift", from conventional wisdom which shapes how many people think today. 70-90% of all organisational change initiatives are unsuccessful, and this talk focuses on how organisations and individuals can foster the conditions for a whole system cultural change to emerge and evolve a sustainable state.
Make sure you are there to join in the fun.
An open invitation is extended to all who are "passionate about sustainability" to come and mingle with like minded people and listen to a speaker share their sustainability story. Scheduled from 6 pm – 8 pm, most of the evening is networking. There is a short presentation and guest speaker at ~7 pm. When you register to attend, please share with your social networks and encourage other interested friends and colleagues to register and join us for a great evening. Our volunteers can have professional name tags ready for collection at the door. For courtesy, please contact us if you register and then cannot attend.